Many of the decisions we take are based on our experiences with the past.
From daily decisions to one-off decisions, most of the time we reflect on the past before we finalize something. As an example, when we go out for dinner, we decide whether to go based on the quality of the food last time and if it wasn't great last time, then we believe that it won't be great now and in the future. We are influenced by this past experience.
The same is with hiring, organizations look at the past performance of the candidate to decide if they would be a good fit. Here again, past experience helps make a decision about the present and future.
And, in most cases, this may hold true. Good past experience and performance most likely predict good future experience and performance as well. 
But in Investing does the same hold true?
If in the past a particular fund was the best-performing fund does it mean that in the future also the same fund will be the best performer?
In equity mutual funds is good past performance enough to predict good future performance?
Let's find out…
Assume your clients had to invest in equity mutual funds today, which fund would they choose?
The most obvious choice is to go with the top-performing funds. They will run a screener, sort funds from highest to lowest 3-year returns and find out the current top 5 diversified equity funds with the highest 3-year returns. Simple right?
But here is where things get a little counter-intuitive.
To actually get the highest returns from these top 5 funds your clients would have had to invest in these funds before 3 years.
So, for your clients to invest they would have again looked at the ranking of the funds and what do they think would be the ranking of these top 5 funds in the past?
In the top 5 or top 10 or within the top 30? 
Here comes the surprise.
The current top 5 funds of 2020-22 based on their 3-year returns were on an average ranked 130 out of 168 funds in 2017-19!
I'm sure you weren't expecting that. 

Would your clients have selected these funds in the past given that they were not ranked in the top 5 not even in the top 30?

Maybe not. 

In contrast, let's say in the past your clients had looked at the funds ranking and invested in top-performing funds of that time; they were at the top so ideally, your clients would expect them to be among the top-ranked funds in the present.

Let's look at their current fund ranking

If your clients had invested in the top 5 funds of 2017-19, those funds are currently on average ranked 115 out of 200 funds!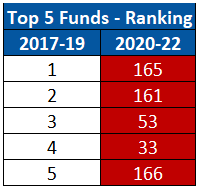 Source: MFI, FundsIndia Research. The table shows the ranking of diversified equity funds (Largecap, Midcap, Smallcap, Flexicap, Large & Midcap, Multicap, ELSS, Value/Contra, Focused & Dividend Yield) based on 3 Year returns. The first column in this section shows the rank based on 3Y Returns during the specified period. The second column shows the ranking of the same fund in the subsequent 3Y Period.
This is confusing right, neither are the current top-performing funds ranked top performing in the past nor are the top-performing funds of the past ranked as current top-performing funds.

Did something unusual happen in the last 3 years?

This is not unusual. Below you can see the ranking of top-performing funds before and after the performance phase over the last 20 years.
Present top-ranked funds with their past ranking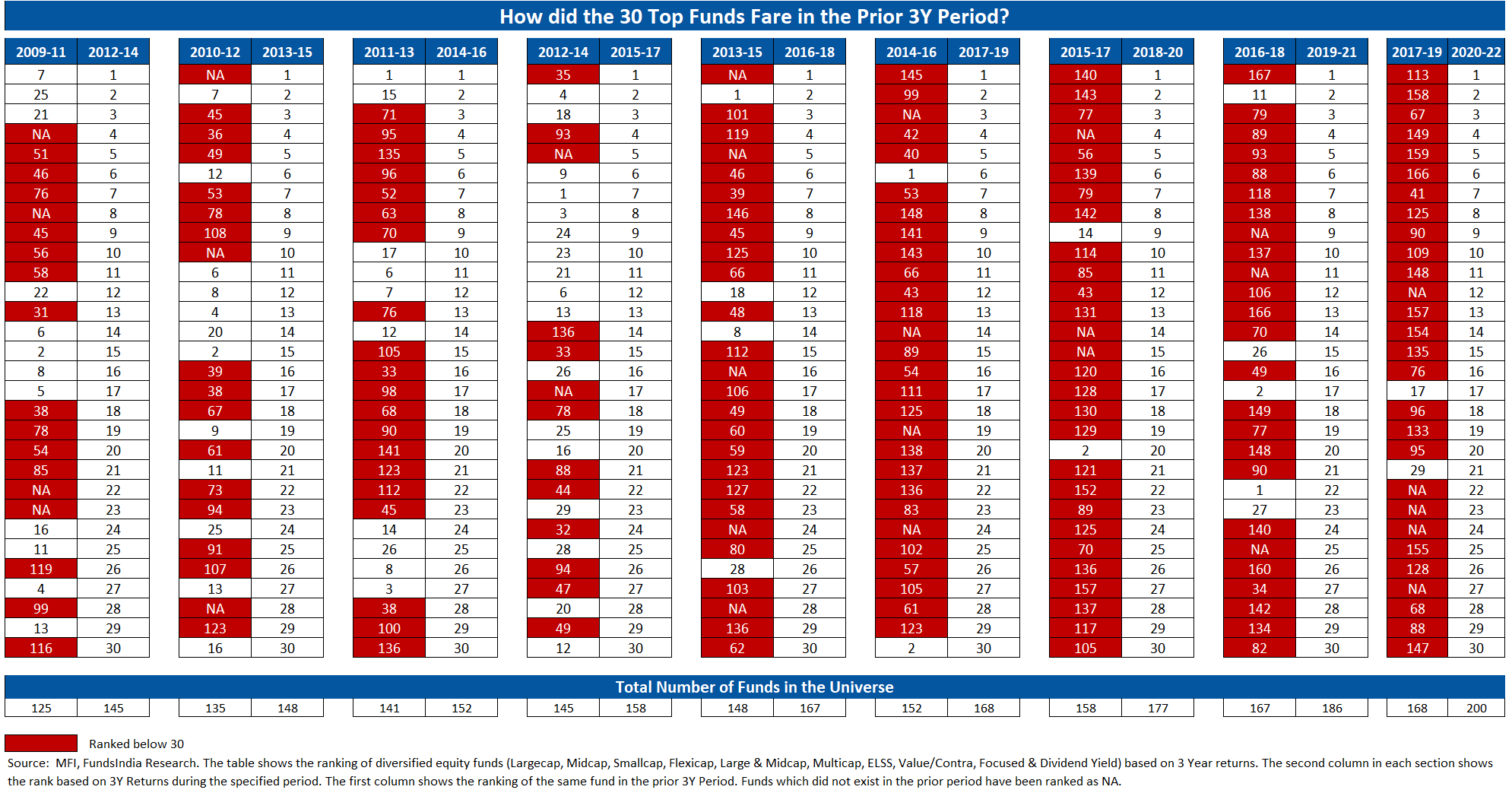 Top-ranked funds of the past with their subsequent ranking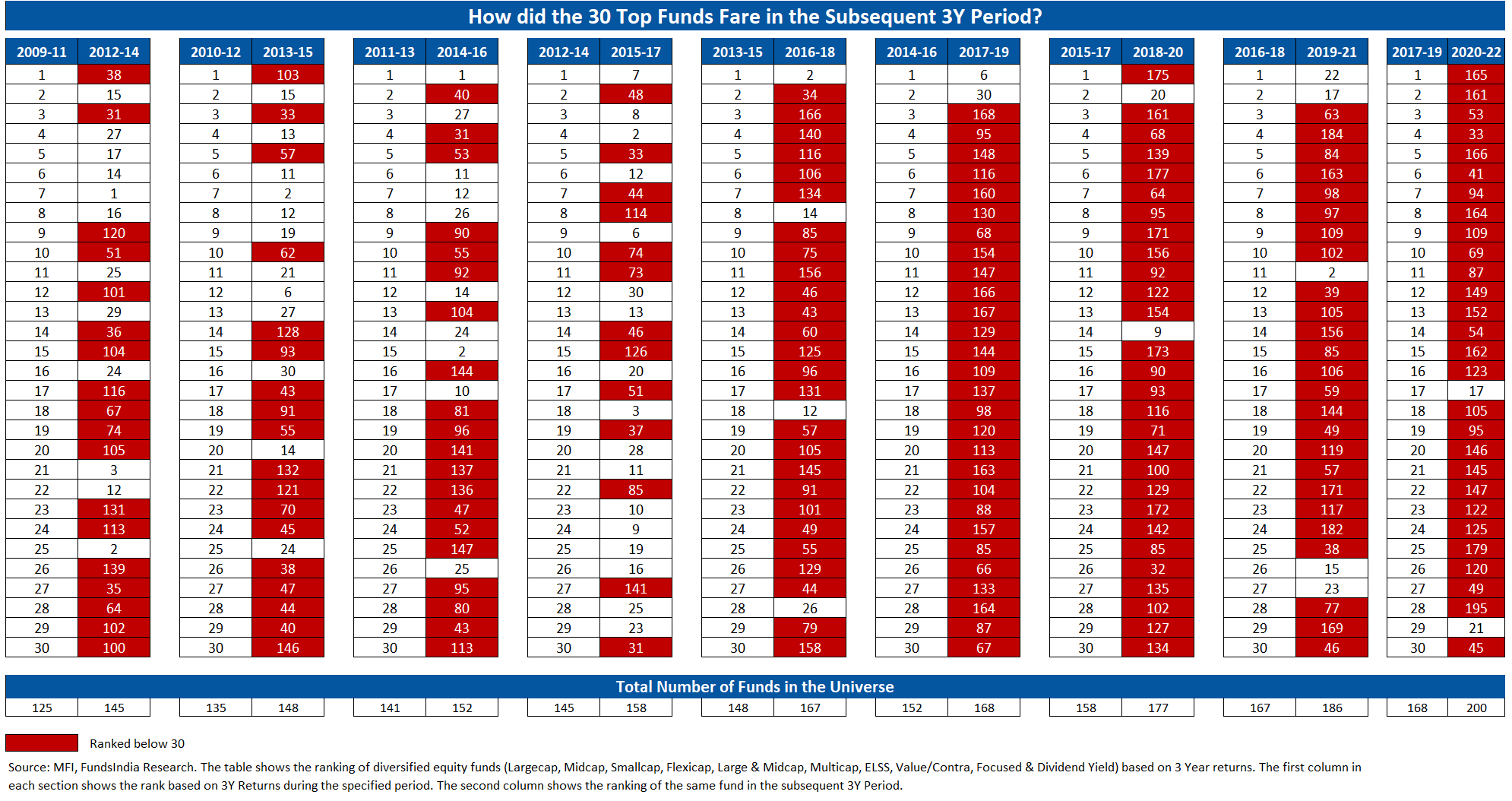 As you can see from history, choosing funds based ONLY on past performance is not a good approach.
Why does this happen?
Equity funds go through cycles. Different investment styles, market cap segments, sectors, and geographies perform well at different times. Due to this, basing the selection of funds solely on returns does not work well over long periods of time. If you would like to know more about this click here to read our earlier blog on this topic.
What should your clients do?
While past performance is a useful metric to evaluate a fund, it can never be the only one. Ideally, your clients should look at a number of quantitative and qualitative factors to derive conviction on the future potential of a fund such as consistency in performance and investment philosophy, risk management, a good fund manager with a long-term track record, etc
Summing it up
Past performance is not enough to predict future performance – Avoid Chasing performance
Past winners in equity mutual funds may not be future winners
Present winners in equity mutual funds may not have been past winners
A better approach to building your clients' equity fund portfolio would be choosing funds using quantitative and qualitative parameters and diversifying their investments across different styles, market caps, sectors, and geographies.